News
Out now: GRAV / BEKËTH NEXËHMÜ / DÖDFÖDD - Vinyl
HATE MEDITATION # 2
After almost three years of waiting, the second issue of Hate Meditation zine is finally out. 13 interviews with Do Skonu, Dødsengel, Jarl Flagg Nidhögg, Panphage, Svartidauði, Surtr, Likfärd, Jotunheim, Korium, Antediluvian, Mare, Armanenschaft, Cirrhus + some articles and reviews. 72 A4 pages, English language. Printed and distributed by Darker than Black Records.
Distribution: ONA Sinister Musick
Darker Than Black Records will be distributing the releases of MMP Temple with immediate effect.
"MMP Temple was established during the 111th year of Fayen (2000, era vulgaris) under another name than it now bears, initially dealing in obscurely dark and original music presented on cassette tape. The rudimentary purpose thus explained is somewhat different compared to today, where we are now mainly concerned with ONA / Order of Nine Angles related or inspired material, however the form remains similar – the release of various Sinister music(k) works of superior quality imbued with a pernicious mysterium. By "superior quality" we refer to the depth of Sinister essence evoked within that musick, rather than the level of technical ability or some other "professional" qualities. Those latter being of no import whatsoever, except in the case of chant, vibration etc, or if the foreseen purpose of the musick requires it to be played in a certain key, perhaps…
The genuinely Sinister musick made available here is unremittingly baleful in its intent. Thus may it find you – inspiration for malign kindred in their bale-weorc, a presencing of the dark, a laying of the new Aeon's foundations, distortion of the mundane, a curse on all others.
AGIOS O BAPHOMET.
Sulphure
York, England, 124 yf."
Link:
MMP Temple
Discogs of Darkness...
We have added an outlet @ Discogs for selling surplus and leftover copies coming from private collections as well as label dead stock. Many items are out of print since a long time and remain available as single copies only, hence record collectors are advised to have a look and act fast:
Discogs of Darkness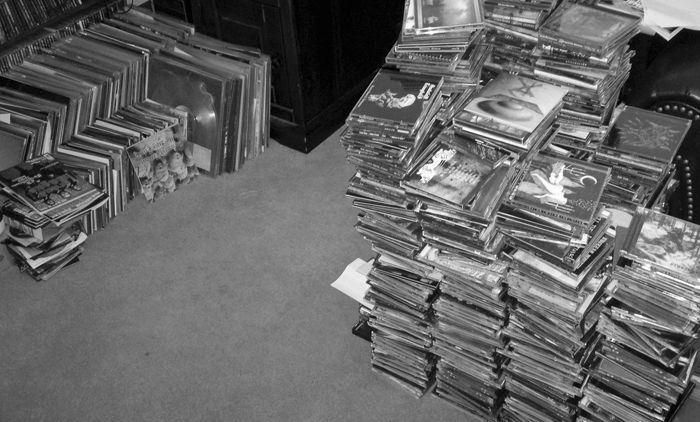 Darker Than Black: SulAmerica
Darker Than Black Records (DTB) nasceu em 1994, com a finalidade de lançar o 7"EP "Thuringian Pagan Madness" do Absurd. Devido à falta de fundos, esta versão nunca se materializou e o selo permaneceu dormente até 1996, quando se tornou o subselo oficial da lendária MALICIOUS Records para lançar edições em vinil limitadas. Após Silexater "Bleeding Depth" - 7 "EP ser lançado, MALICIOUS Records teve graves problemas e foi extinta em 1997.

No final de 1997 a D.T.B. ganhou força e finalmente, lançou o debut album do Thor´s Hammer "Fidelity Shall Triumph". Logo em seguida veio o MCD "Eternal Damnation" do Abyssic Hate, limitado a 500 cópias. Também foi organizado em 26 de Setembro de 1998 o lendário concerto "Black Metal-Storm over Germany" com: Nagelfar, Riger, Dunkelgrafen, Barad Dur, Vilkates, Lugburz e, como convidado especial, os tiranos do Black Metal alemão, Absurd.

Com Mjölnir "Hinweg über die Tore der Zeit", lançado no final de 1998, DTB conseguiu atordoar a cena Black Metal trazendo um álbum inovador, jamais visto naquela época!

Os próximos lançamentos foram em 1999. Barad Dûr "Dunkelheit", Winterblut "Der 6. Danach " e o classico "Warspirit" do Kristallnacht. Outros grandes nomes fizeram parte da D.T.B. ainda nos anos 90, como Thunderbolt, Kataxu, Juvenes, Legion of Doom, Pantheon, Bekhira, entre outros...

Em outubro de 1999, a D.T.B. volta as sombras mais uma vez. Os lançamentos previstos e originalmente programados para D.T.B. acabaram por ser lançados pela Ancestral Research Records, em 2001/2002.

Alguns anos depois a D.T.B. ressuscita em toda a sua glória, com dezenas de novos lançamentos de bandas mundialmente consagradas do underground.

Em 2013, a Hammer Of Damnation firma uma parceria com a Darker Than Black e abre uma filial na América do Sul. O primeiro resultado desta parceria é o relançamento de 2 albuns do Evil em cd, "Twilight and Mourning" e "Where the Sun was Never Born", ambos remasterizados em 2013. Todos os lançamentos da Darker Than Black são distribuídos unica e oficialmente na América do Sul pela DARKER THAN BLACK - SULAMERICA.

Música de alta qualidade, da elite, pela elite e para a elite ...!

Website: www.dtbsa.com

Contact: info@dtbsa.com
New sublabel: StaalPakt
We have decided to launch a new sublabel releasing Industrial Black Metal exclusively:
A Division of Darker Than Black Records: StaalPakt.
Any bands/projects into this particular fusion of inhuman Electronics and insane Black Metal are encouraged to get in touch.
Disclaimer: Bands, please read before you get in touch!
Do not send any emails asking for a record deal to us anymore! D.T.B. Records does not sign any new bands for the time being, unless we are asking any band ourselves. Stop to spam our mailbox with requests for a record deal, because we will not pay attention to it anyway. There are many labels around who might be inclined to sign a new band, so go asking them. Thank you.
Latest Releases
BEKËTH NEXËHMÜ - De Urtida Krafterna - 7" EP



7" EP.

GRAV - Oheligheternas Pulserande Ondska - 7" EP



7" EP.